A NEW SEQUENCE FROM MAGIC SQUARE DIAGONALS (Part A)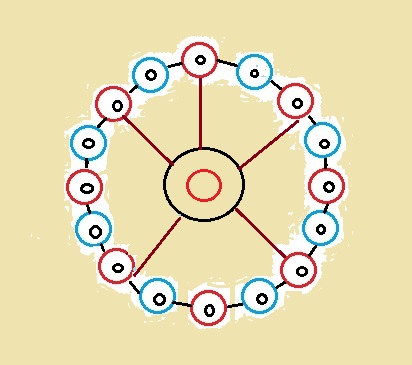 SPOKE SHIFT MAGIC SQUARES - CALCULATION OF DIAGONAL PAIRS
A magic square is an arrangement of numbers 1,2,3,... n2 where every row, column and diagonal add up to the same magic sum S and n is also the order of the square. A magic square having all pairs of cells diametrically equidistant from the center of the square and equal to the sum of the first and last terms of the sequence n2 + 1 is also called associated or symmetric. In addition, the center of this type of square must always contain the middle number of the sequence, i.e., ½(n2 + 1).
These new squares can produce different diagonal pairs which generate many "Cross-Overs" on the complementary table. This site will show how to determine the different "Cross-Over pairs" via use of a new sequence generated from either of two different equations, where x is based on the natural numbers 1,2,3,4... or one based on the order of an odd square n = 5,7,9,11... The numbers that form the diagonals of the magic squares may begin at any position of the complementary tables and are imcremented by 3 until the diagonal is filled.
Determination of Total F(n)
The function F(

n

) which is equal to ½(n2 − 5n + 14) is shown in Table Fd.

n

stands for the size of the odd square and F(

n

) is a sequence whose values determine the number of

"Cross-Over pairs"

with increasing

n

for magic square diagonals.
Column 4 shows the differences between the F(

n

)s under the Δ column which just happens to be the Sloane sequence A004767 in the oeis database.
Column 5 shows ΔΔs of the Sloane sequence AA004767. The column shows a pattern of only 4s.
The second method for obtaining F(

n

) is via a second equation involving x. This requires converting

n

to x where x= ½(

n

− 3). This generates the natural numbers 1,2,3,4,...which we can plug into the equation 2x2 − 3x + 5.
Column 4 shows that the differences between the F(

n

)s under the Δ column are 4

k

+ 3.
Table Fa
x= ½(

n

-1)

n

½(n2 -5n + 14)
Δ
ΔΔ
2x2 - 3x + 5
1
3
4
3
2
5
7
4
7
3
7
14
4
11
4
9
25
4
15
5
11
40
4
19
6
13
59
4
23
7
15
82
4
27
8
17
109
4
31
9
19
140
4
35
10
21
175
4
39
11
23
214
4
43
12
25
257
4
47
13
27
304
4
51
14
29
355
4
55
15
31
410
4
59
16
33
469
4
Cross-Over Pairs for the 5x5 Complementary Table
The seven Cross-Over double pairs are shown in the complementary table for a 5x5 square. The numbers in color are the points where the two pairs cross over.
The Cross-Over pairs are used to fill up the diagonals of an

nxn

magic square. The last five numbers for example as in a 5x5 square {11,12,13,14,15} are not included in these pairs since they are not part of the diagonal numbers.
The numbers associated with these pairs and their complements (not shown) account for the seven in the F(

n

) column:
{1,

3

}
{

2

,4}
{2,

4

}
{

3

,5}
{3,

5

}
{

4

,6}
{4,

6

}
{

5

,7}
{5,

7

}
{

6

,8}
{6,

8

}
{

7

,9}
{7,

9

}
{

8

,10}
Cross-Over Pairs for the 7x7 Complementary Table
The fourteen Cross-Over triple pairs are shown in the complementary table for a 7x7 square. The numbers in color are the points where the two pairs cross over.
The Cross-Over pairs are used to fill up the diagonals of an

nxn

magic square. The last seven numbers for example as in a 7x7 square {22,23,24,25,26,27,28} are not included in these pairs since they are not part of the diagonal numbers.
The numbers associated with these pairs and their complements (not shown) account for the fourteen in the F(

n

) column:

{1,3,

5

}
{

4

,6,8}
{2,4,

6

}
{

5

,7,9}
{3,5,

7

}
{

6

,8,10}
{4,6,

8

}
{

7

,9,11}
{5,7,

9

}
{

8

,10,12}
{6,8,

10

}
{

9

,11,13}
{7,9,

11

}
{

10

,12,14}
{8,10,

12

}
{

11

,13,15}
{9,11,

13

}
{

12

,14,16}
{10,12,

14

}
{

13

,15,17}
{11,13,

15

}
{

14

,16,18}
{12,14,

16

}
{

15

,17,19}
{13,15,

17

}
{

16

,18,20}
{14,16,

18

}
{

17

,19,21}

Cross-Over Pairs for the 9x9 Complementary Table

The 25 quadruple Cross-Over pairs are shown in the complementary table for a 9x9 square. These are the points where the two pairs cross over.
The Cross-Over pairs are used to fill up the diagonals of an

nxn

magic square. The last seven numbers for example as in a 9x9 square {37,38,39,40,41,42,43,44,45} are not included in these pairs since they are not part of the diagonal numbers.
The numbers associated with these pairs and their complements (not shown) account for the 25 in the F(

n

) column:

{1,3,5,

7

}
{

6

,8,10,12}
{2,4,6,

8

}
{

7

,9,11,13}
{3,5,7,

9

}
{

8

,10,12,14}
{4,6,8,

10

}
{

9

,11,13,15}
{5,7,9,

11

}
{

10

,12,14,16}
{6,8,10,

12

}
{

11

,13,15,17}
{7,9,11,

13

}
{

12

,14,16,18}
{8,10,12,

14

}
{

13

,15,17,19}
{9,11,13,

15

}
{

14

,16,18,20}
{10,12,14,

16

}
{

15

,17,19,21}
{11,13,15,

17

}
{

16

,18,20,22}
{12,14,16,

18

}
{

17

,19,21,23}
{13,15,17,

19

}
{

18

,20,22,24}
{14,16,18,

20

}
{

19

,21,23,25}
{15,17,19,

21

}
{

20

,22,24,26}
{16,18,20,

22

}
{

21

,23,25,27}
{17,19,21,

23

}
{

22

,24,26,28}
{18,20,22,

24

}
{

23

,25,27,29}
{19,21,23,

25

}
{

24

,26,28,30}
{20,22,24,

26

}
{

25

,27,29,31}
{21,23,25,

27

}
{

26

,28,30,32}
{22,24,26,

28

}
{

27

,29,31,33}
{23,25,27,

29

}
{

28

,30,32,34}
{24,26,28,

30

}
{

29

,31,33,35}
{25,27,29,

31

}
{

30

,32,34,36}

This completes the Part C of Spoke Shift Sequence and Sum of F(n).
Go back to homepage.

---

Copyright &copy 2013 by Eddie N Gutierrez. E-Mail: Fiboguti89@Yahoo.com