A New Procedure for Magic Squares
A Loubère Type Method - The Slant Break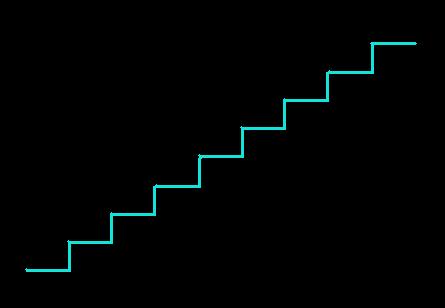 A Discussion of the New Method
Magic squares such as the Loubère have a center cell which must always contain the middle number of a series of consecutive numbers, i.e. a number which is equal to one half the sum of the first and last numbers of the series, or ½(n2 + 1). The properties of these regular or associated Loubère squares are:
That the sum of the horizontal rows, vertical columns and corner diagonals are equal to the magic sum

S

.
The sum of any two numbers that are diagonally equidistant from the center (DENS) is equal to n2 + 1, i.e., or twice the number in the center cell and are complementary to each other.
In this method the numbers on the square are added by the staircase method starting at (one down, one right) to the center cell. The Loubère method is applied (the staircase method). When a break is encountered the move is (2 down, 2 right), i.e., a 2 down slant. The result is the generation of a Loubère type square different from the standard Loubère.
In addition, those numbers divisible by three will not be magic but will give triads of sums, viz. for a 9 x9 this triad is (360,369,379). To convert this square to magic we can use the mask method as shown in Cross and Mask Methods. The sums of these squares is also shown to follow the new sum equation as was shown in the New block Loubère Method:
S = ½(n3 ± an)
Construction of a 5x5 Slant Break Magic Square
Construct Square 1 by adding consecutive numbers at position (one down, one right) to the center cell. On reaching 5 break (2 down,2 right) and continue with 6.
Fill in the rest of the cell in like manner.
⇒

2

| | | | | |
| --- | --- | --- | --- | --- |
| 7 | 4 | 24 | 18 | 15 |
| 3 | 25 | 17 | 14 | 6 |
| 24 | 16 | 13 | 10 | 2 |
| 20 | 12 | 9 | 1 | 23 |
| 11 | 8 | 5 | 22 | 19 |
Construction of a slant break 9x9 Magic Square
Use of a mask
Construct Square 1 by adding consecutive numbers at position (one down, one right) to the center cell. On reaching 5 break (2 down,2 right) and continue with 10.
Fill in the rest of the cell in like manner (Squares 2 and 3).
At this point not all rows sum to 369.

1

| | | | | | | | | |
| --- | --- | --- | --- | --- | --- | --- | --- | --- |
| | 6 | | | | 18 | | | |
| 5 | | | | 17 | | | | |
| | | | 16 | | | | 19 | 4 |
| | | 15 | | | | | 3 | |
| | 14 | | | | | 2 | | |
| 13 | | | | | 1 | | | |
| | | | | 9 | | | | 12 |
| | | | 8 | | | | 11 | |
| | | 7 | | | | 10 | | |

⇒

2

| | | | | | | | | |
| --- | --- | --- | --- | --- | --- | --- | --- | --- |
| 21 | 6 | | | 33 | 18 | | | |
| 5 | | | 32 | 17 | | | | 20 |
| | | 31 | 16 | | | | 19 | 4 |
| | 30 | 15 | | | | 27 | 3 | |
| 29 | 14 | | | | 26 | 2 | | |
| 13 | | | | 25 | 1 | | | 28 |
| | | | 24 | 9 | | | 36 | 12 |
| | | 23 | 8 | | | 35 | 11 | |
| 37 | 22 | 7 | | | 34 | 10 | | |

⇒

3
369
21
6
72
48
33
18
75
60
45
378
-9
5
71
47
32
17
74
59
44
20
369
0
70
46
31
16
73
58
43
19
4
360
9
54
30
15
81
57
42
27
3
69
378
-9
29
14
80
56
41
26
2
68
53
369
0
13
79
55
40
25
1
67
52
28
360
9
78
63
39
24
9
66
51
36
12
378
-9
62
38
23
8
65
50
35
11
77
369
0
37
22
7
64
49
34
10
76
61
360
9
369
369
369
369
369
369
369
369
369
369

Adjust the values in the center row by adding and subtracting the values in the last columns to generate 4. At this point fourduplicates (in

light orange

) have been generated.
Generate a mask using n2 as a factor to be added to the appropriate cell of square 5. Since two duplicates are present in columns 4 and 6, two n2 factors must be present per row, column and diagonal. In this case to the center cell is added 2n2.

4
369
21
6
72
48
24
18
75
60
45
369
5
71
47
32
17
74
59
44
20
369
70
46
31
16
82
58
43
19
4
369
54
30
15
81
48
42
27
3
69
369
29
14
80
56
41
26
2
68
53
369
13
79
55
40
34
1
67
52
28
369
78
63
39
24
0
66
51
36
12
369
62
38
23
8
65
50
35
11
77
369
37
22
7
64
58
34
10
76
61
369
369
369
369
369
369
369
369
369
369
369

+

Mask B

| | | | | | | | | |
| --- | --- | --- | --- | --- | --- | --- | --- | --- |
| | | | 81 | | | | 81 | |
| 81 | | 81 | | | | | | |
| | | | | | 81 | | 81 | |
| 81 | | | | | | 81 | | |
| | | | | 162 | | | | |
| | | 81 | | | | | | 81 |
| | 81 | | 81 | | | | | |
| | | | | | | 81 | | 81 |
| | 81 | | | | 81 | | | |

⇒

Addition of these factors to square 4 gives square 85 with S = 531 = ½(n3 + 37n) and the modification of 17 numbers.

5
531
21
6
72
129
24
18
75
141
45
531
86
71
128
32
17
74
59
44
20
531
70
46
31
16
82
139
43
100
4
531
135
30
15
81
48
42
108
3
69
531
29
14
80
56
203
26
2
68
53
531
13
79
136
40
34
1
67
52
109
531
78
144
39
105
0
66
51
36
12
531
62
38
23
8
65
50
116
11
158
531
37
103
7
64
58
115
10
76
61
531
531
531
531
531
531
531
531
531
531
531

This completes this section on a new slant break Loubère Type 5x5 and 9x9 Mask-Generated Methods. To return to homepage.

---

Copyright &copy 2010 by Eddie N Gutierrez. E-Mail: Fiboguti89@Yahoo.com